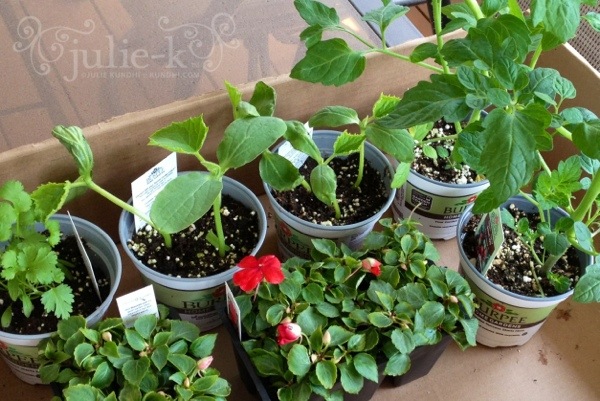 I gave up on growing our own veggies last year and bought a share in a local CSA. I'm doing it again this year, but my daughter begged asked me to please buy a few plants from her school fundraiser. We got some impatiens for the front, in Husker red of course, and some veggies for the back.
She chose cucumbers so we could make pickles. She also picked grape tomatoes because we didn't get enough from the CSA last year. I bought a cilantro plant, but passed on the basil because that's something we definitely did get a lot of last year.
It doesn't seem like much, but I really enjoyed not having to worry about our veggies last year. Maybe I could put her in charge of taking care of them?
Our biggest problem is pollination because we have a screened-in porch. I can't put them directly into the ground because we have a lot of hungry bunny rabbits in our neighborhood. In order to be successful, we're going to need something portable like a 5-gallon bucket planter or something on wheels. I'll need to move them in and out of the screened area, especially when we get storms.
It already sounds difficult. Wish us luck!