As I've mentioned, I have too much acrylic yarn. I decided to start knitting and crocheting my way through it instead of just giving it away. I made three hats for my friend's students* and then I kind of got sidetracked by my flowers for Haiti.
*Here's my first hat finished with a flower and my third hat. (Hat no.2 here.)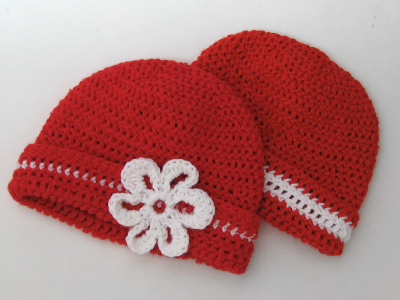 While on Craft Hope's website, I saw that they had recently partnered with The Orphan Foundation of America's Red Scarf Project. I've wanted to do this, but always seemed to miss the deadline for some reason or another. I was excited to hear Craft Hope has a special deadline: Valentine's Day! I grabbed some red yarn (I have a lot!) and got started.
Things were going well until today. I took it to the library to work on while my daughter was in Story Time. I forgot my hook and using a different size was really noticeable. As I sat there with it in my lap, I realized I didn't like the direction this scarf was taking. I had a dilemma: work through it anyway or rip and start over. I decided to rip.
I restarted it tonight at knitting group. I have nothing to show you except some re-wound yarn balls. I really like where the new scarf is headed, though, and I'm glad I ripped. Hopefully it will be ready for pictures next week.
donate: It feels like I've been making a lot of projects for others lately and I promised myself this year I'd make more things for me. It's just so darn cold outside. I can't get over the need to bundle everyone up!