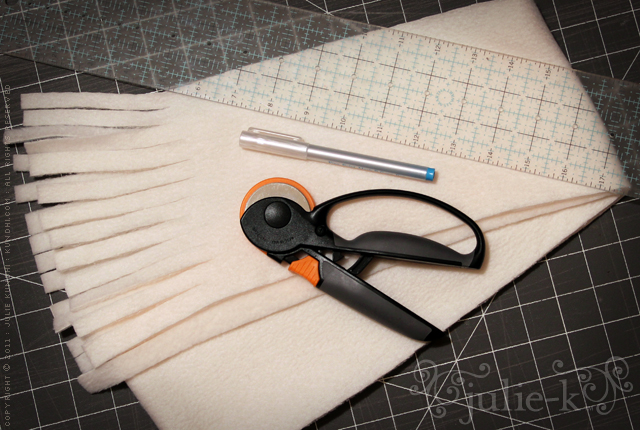 They are the words that all knitters, crocheters and sewists don't want to hear:
Mom, I lost my scarf.
I'm not too worried. I've stitched her name and my phone number in all of her handmade woolens. I'm also in the process of replacing the lost scarf with something to match her kitty cat hat and mittens. I'm not too invested in this little brown scarf. Now, if it was one I made out of Noro Kureyon…
It will probably turn up tomorrow, but it's going to be cold in the morning. Usually, I'd just give her one of mine to wear. However, the thought of one of my scarves spending the night out on the playground makes me kind of queasy.
So, I made a little stand-in scarf. It took more time to take a photo and write this post than it did to make the scarf. I used a fleece scrap from my stash, folded it from selvedge to selvedge, cut a 5 1/2 inch wide strip and trimmed off the selvedges. The fringe is 4 inches long and 1/2 inch wide.
It actually turned out really nice. So nice, that when her brown scarf finally makes it's way home, I might have to keep this for myself.