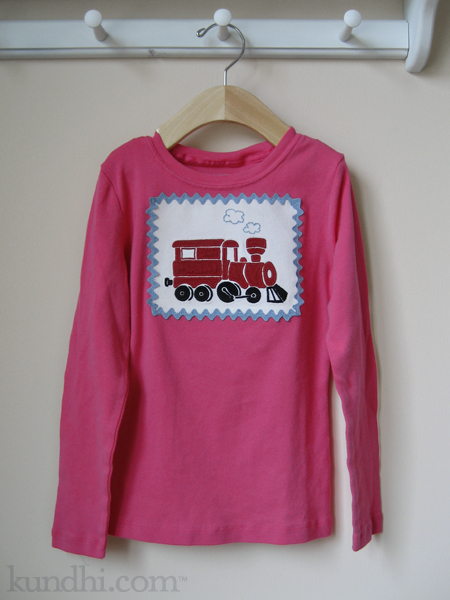 I know I've complained about this before, but why do manufacturers make train, car and dinosaur shirts so gender specific? My daughter loves all three and she loves red, pink and purple. I hit the jackpot a few years ago when I found a white, new with tags, gender neutral train shirt at a garage sale. It was a size too big, but she wore it all the time with her sleeves rolled up. The next year it fit perfectly.
This year, it's too small. I suggested maybe we pass it on to one of her friends who loves trains. "But Mama, can't we just sew the train on to another shirt?"
I put this project off, but she kept bringing it up. I may be finished with it, but my daughter isn't ready to give it up. In fact, she art directed the whole project, choosing the pink shirt and suggesting the border. After she got over her disappointment that I didn't have any pink ric rac in my stash, she picked blue to match the puffs of steam.
She's very proud of her new shirt. I'm happy that she's happy. I think this might be the season finale for this little engine, though. After this, it's going on a tote bag.
project details: I positioned the ric rac in place with a glue stick before stitching it on, which allowed me to fudge the corners so they matched. Worked like a charm! Also, I didn't fold over the ends. Just lined them up and sealed them with a little bit of fray check.
almost two years ago: My tutorial on ruffling up a boy's t-shirt. I wish this would have worked for the train shirt, but my daughter is growing too fast!
behind the scenes: I'm finally seaming the baby blanket. Can't wait for the big reveal!