When I go to Neat Repeatz, I check the girls clothing first, then head over to the boys clothing. Why? Most of the time the boys stuff is a lot cooler. A girl can only have so many pink shirts with flowers and hearts. What about dinosaurs? Cars? Trains? I never see those in the girls section. It's always Dora, Dora, Dora. My daughter doesn't even watch Dora. She likes Thomas the Tank Engine, Lightening McQueen and Mickey Mouse.
On my last trip, I found two shirts I knew Bella would love. They were 3T, but a little too short for my tall toddler. I was afraid they wouldn't last until the end of the season. Inspired by Rachel's tutorial for lengthening pants, I added a few inches to the shirts with some ruffle trim.
Both were iTalk shirts, so I removed the big patch on the front and tossed the little computer chip thingie, which didn't work in either shirt. Then I washed them so the holes from the patch stitches would close up a bit.
I used about a yard of ruffle trim for each shirt. After a few attempts to pin the ruffle to the hem, I just put it in the machine and aligned it as I went.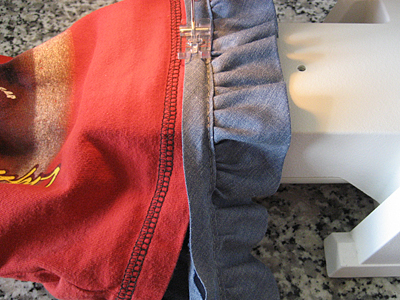 I'm really happy with how these turned out. Both shirts took less than an hour to sew up. Bella was a little worried when she saw them in the machine. "What are you doing with my Lightening McQueen shirt, mom?" When I showed her the finished shirt, she loved it.
refashion: Adding trim is a great way to freshen up an old t-shirt, especially one that's too short.