I know today is usually all about my creative space at the moment, but I'm working on the beach blanket and there isn't much else to show you except a nice pretty fabric pic like this one. Instead, I'm sharing my third home ec project: a reusable grocery tote.
This project got me thinking about handles. I usually seam up the sides first, fold over and stitch the top hem, then add handles. This project changed the order: top hem, handles, side seams. I can definitely see the wisdom in doing the handles on a flat piece of fabric. It makes a lot of sense. But, I also really like how the top hem hides the side seams when folded over. It's something to think about. (Yes, I do think about these things.)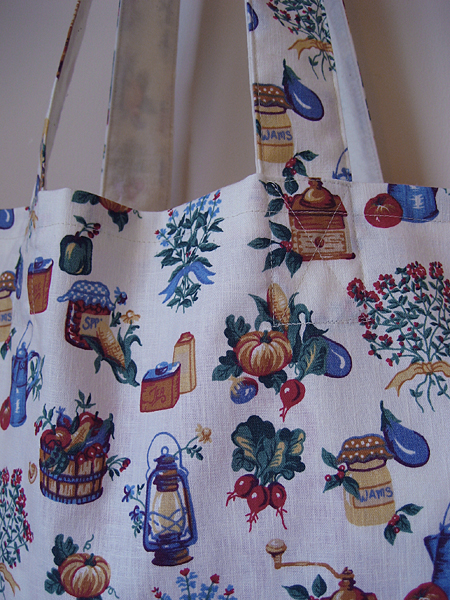 I'm planning to make some heavy duty grocery totes for our weekly shopping because I'd like something with a square bottom. I love this for the Farmers' Market, though. The fabric is totally appropriate!
stash: I've been holding on to this fabric for awhile and I can't remember where I found it. I was saving it for a farmers' market tote, so now I can cross that off my to-do list!