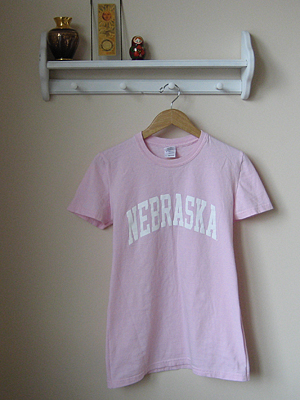 You know you're getting old when the phrase, "They don't make them like they used to…" creeps into your conversations. But seriously, can someone explain to me how my Gap t-shirts from college are still going strong almost 20 years later, but t-shirts from the past few years are falling apart?
I have this grand idea of updating all of those boxy, over-sized tees into a more modern and flattering fit. First, I need some practice. I've made a few patterns from existing t-shirts that I like and I'm also trying out the t-shirt pattern in Wendy Mullin's Sew U Stretch.
My first try was a thrifted XL Nebraska shirt. It turned out pretty good for a beginner shirt. The sleeves are kind of tricky, though. I definitely need a little bit more practice before cutting into my ol' Gap favorites.
thrifted: I always try to practice on thrifted material and clothing first. I'd rather mess up on a 99 cent t-shirt than on the good stuff!