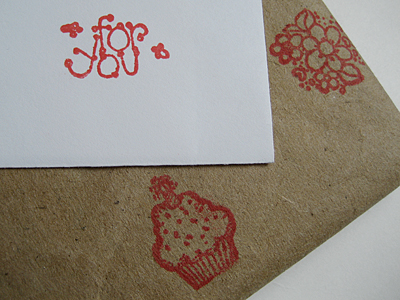 A few months ago I found these stamps while digging through the craft section at the thrift store. One of my daughter's favorite things to do is stamp — anything and everything!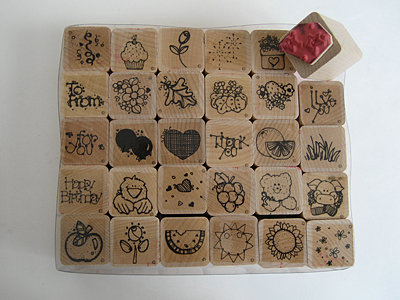 She already makes birthday cards for her friends by hand, and I thought it would be fun to have her make wrapping paper for the gifts, too. Fabric gift bags are great, but sometimes kids just need to rip paper.
I usually use kraft paper for this, but a paper bag works just as well.
Materials
kraft paper or paper bags
rubber stamps
washable ink stamp pads
Step 1
If using kraft paper off the roll, tape it to the table first so your child has a flat surface on which to stamp. If using a paper bag, cut it flat and use a low heat iron to smooth out the wrinkles. (They won't disappear, but will flatten out.)
Step 2
Roll up your child's sleeves. We've had elbows in the stamp pad many times, which is why washable ink is a good idea.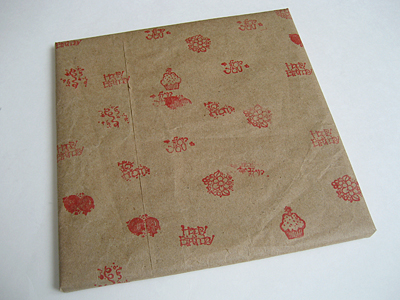 Step 3
Wrap the gift! If your child wants to help with this step, hold the paper and let her apply small pieces of tape.
Bonus!
Have your child stamp the envelope to match the paper.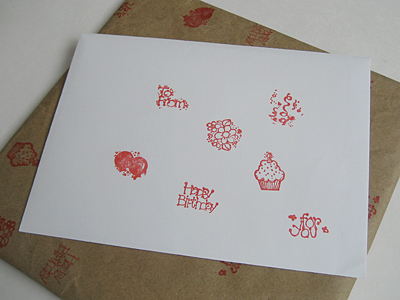 recycle: If you missed my post with the frightening statistics about wrapping paper, you should really check it out. I'm happy to say this is one resolution that I've had no problem keeping! (Price for the stamps: $4.)