After my daughter was born, we had a huge supply of gift bags. Most of them were pink, but we had our fair share of gender neutral and holiday bags, too. It's been over three years, but I'm almost finished using them for gifts.
Honestly, it felt like my stash would never be gone. When I got close to the end of my pile, I started thinking about how I would wrap presents in the future. I did a little bit of research on the web and found some startling statistics about gift wrap.
Wrapping paper, from an ecological point of view, is a pretty worthless use of trees. Each year in the United States, 4 million tons go from logs to landfills to make wrapping paper and holiday shopping bags, according to the Clean Air Council, a Philadelphia-based nonprofit organization.
Once I got past the shock of 4 MILLION TONS EACH YEAR I read something even more unsettling. You know how some people throw wrapping paper into their fireplace?
Decorative wrapping paper, much of which is made in countries such as China that have looser environmental regulations, can contain lead, synthetic inks, plastic film, chlorine or metal-based foils, which release toxic and carcinogenic compounds into the air when burned. Metallic paper may or may not have a greater environmental footprint than other types, but it's certainly not meant to be inhaled. Who's most vulnerable to this indoor pollution? Children, whose systems are still developing.
You may be able to recycle gift wrap depending on where you live, but metallic accents, glitter and too much tape can make them un-recyclable. Plus, if it's unsafe to burn, is it really safe for your child to be tearing it apart?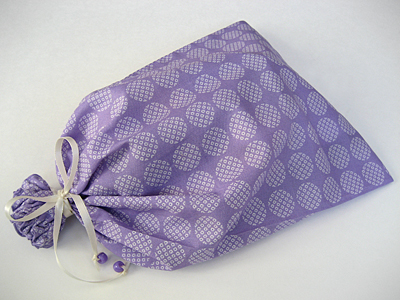 So, I've resolved to only use fabric gift bags and plain recyclable paper going forward. I really like how my first fabric birthday bag turned out. Does anyone want to make this resolution with me? There are some great ideas to inspire you over at That Little Bit Greener.
resource: Quotes taken from this Washington Post article.