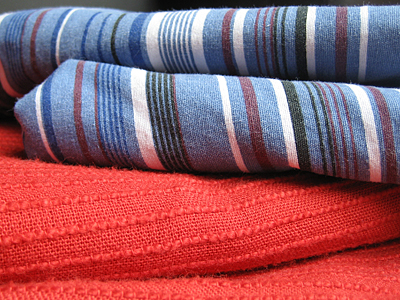 Have you read Amanda Soule's new book Handmade Home? I love all of her projects, but the Beach Blanket to Go really got my attention. I'm going to a beach wedding in October and have been wondering what to make for a gift. I think this will be perfect! I'm going to add a label that marks the date and place, too.
Finding the bedspread and sheet for this project was like a little bit of crafty kismet. Friday morning I was searching vintage fabric on ebay and put a red bedspread exactly like the one above in my watched items list. That evening, I headed out to a few thrift stores to see what I could find. I wasn't planning to go to the store where I found these, but I felt a pull toward that direction.
I decided to follow my instincts and was shocked to see the same exact bedspread that I had bookmarked earlier that day. What's more, this sheet was right next to it on the rack. I opened them both up and they were in excellent condition. It was almost as if they were destined to become this blanket. Now all I have to do is figure out my binding and put it all together.
Do you ever get that thrifty feeling? Like something is pulling you to a particular store because the exact thing you are looking for is there?