Looking for the Sew, Mama, Sew giveaway? Click here!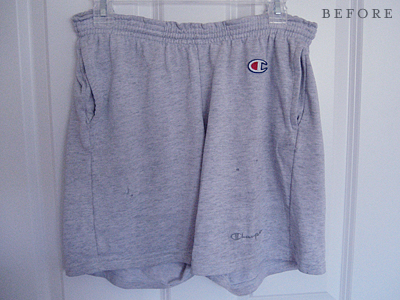 Does every guy have a pair of these? These are T's comfy shorts. He has literally worn them threadbare. My attempts to replace them didn't really work. They either didn't fit right or didn't have pockets. I think he bought these when we were dating. It is past time for letting them go.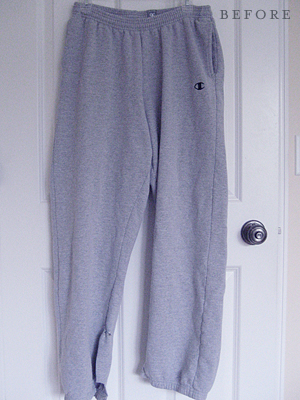 I found this pair of really big sweatpants at a local church sale, and now that I'm refashioning, I figured I can make new comfy shorts! I tried to just trace around them, but the front and back panels were two very different sizes, so I had to deconstruct them. It was a very delicate operation.
I am really impressed with the results, if I do say so myself. They turned out much more professional looking that I would have thought. (Pat myself on the back!) They also fit well and T approves!
Sewing knits has always frustrated me, so to prepare for this project, I got Wendy Mullin's Sew U Home Stretch from the library. I used an overlock foot for the inside seams and a walking foot for the hem. Both worked really well.
I think with the small amount of sewing with knits that I do, I really don't need a serger. It's not like I'm going to be making t-shirts and comfy shorts for the whole family. I am planning to make some sweats for Bella with the leftover pants legs, but will wait until closer to Fall to measure her.