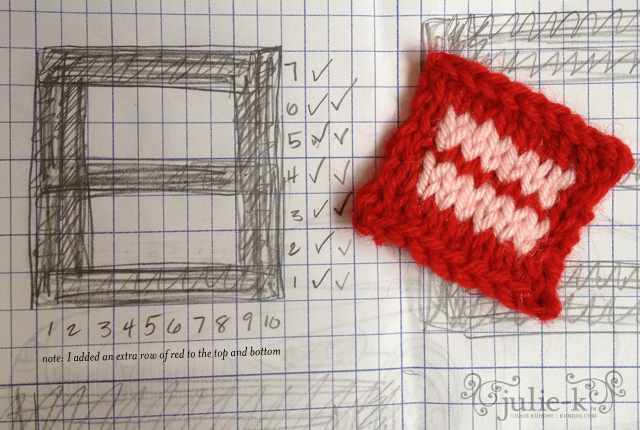 If you spend time on Facebook and Twitter, you've probably noticed a lot of red squares with pink equal signs. It is a way for people to show their support for marriage equality. I wanted to do more than just change my social media avatars, so I knit up a little pin.
I don't often knit with two colors, and I tried this a few different ways. Intarsia was easier, but too many ends to fiddle with. Duplicate stitch over a red square looked just ok. I even tried crochet, but the lines just weren't straight enough. Fair isle won out in the end.
I'm offering the chart with the disclaimer that when it comes to fair isle, I really don't know what I'm doing. Even though I checked my gauge and made a chart, my first few tries came out more rectangular. I wound up adding a row of red to the top and bottom to even things out. Blocking into shape was also a must.
notes: Red yarn was Lion Brand wool. Pink yarn was a random soft acrylic from my odds and ends bin. I used size five needles. Finished size is 2 x 1 3/4 inches. I also found some great video tutorials that helped me out.
— How to Knit Fair Isle with Two Hands
— How to Knit Fair Isle Neatly in Purl
— How to Carry the Yarn Across the Row
Also, here is a site where you can generate and print graph paper according to your gauge.