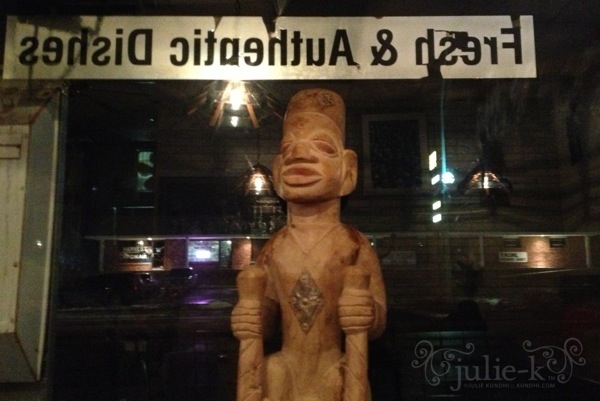 I have only eaten Ethiopian food once before, a long time ago, and don't remember much about the experience. My husband and I are always looking to try new restaurants and types of cuisine, so when he suggested buying a groupon for a local African restaurant, I said, "Sure!"
Then I found out there was only one non-meat entrée on the menu, and I put him off every time he wanted to go. (To be fair, there are only like six or so entrées on the menu.) However, the groupon was eventually going to expire, so I finally agreed.
The experience was kind of bizarre. We looked over the menu, asked the waiter to explain the different dishes, and after careful consideration, placed our order. Then, when our food arrived, the waiter apologized for no appetizer — they were out of the non-meat version — and sorry, but they were out of some of the entrée food, too.
Normally this would bother us, but since we had no idea what we had ordered, we figured whatever, we'll just eat it. And it was good! I had a cabbage dish with beets and potatoes. My husband had lamb and beef. Both were served on injera bread.
When we went to pay our bill, the waiter waved us off and said, "No worries. Your groupon covered it."
I don't normally write about local restaurants, but the experience was definitely worth noting. I'm sure my husband will go back. As for myself, I'll probably only return if I'm in the mood for cabbage and beets.