The city library's book sale was this week (and still going on if you're local) and I exercised great restraint. I limited myself to two hours and $20 and spent less than that in both time and money. Even more surprising: I didn't buy anything for myself. Since downsizing my personal collection and getting an e-reader, I've been very picky about what I purchase for permanent storage on our shelves. I also happened to be listening to Throw Out Fifty Things on the drive to the sale, specifically the chapter in which a woman had let go of twelve boxes of books in her attempt to declutter her life. (Maybe the universe was trying to speak to me?)
I found a few illustrated German dictionaries to add to my daughter's collection and a very cool National Geographic Picture Atlas of Our World. Serious stuff aside, I bought some fun things including these Charlie Brown comic books.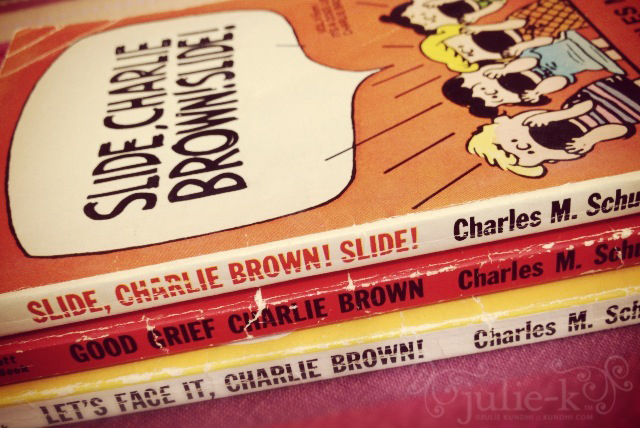 I remember spending hours as a kid devouring these over and over. After my daughter became addicted to this Mutts book, I knew she'd enjoy them. She commented that they were a little worn and was sad that someone didn't take very good care of them. I had to remind her that they were printed the same year as I was born, ahem, and that they had indeed been well cared for over the (cough — many — cough) years.
Add in a few chapter books and a dinosaur drawing book and I had a very happy girl. Watching her read brings such joy to this mama. I hope she never loses her insatiable appetite for the written word.