week five: green cabbage, beets, kale, garlic, summer squash
week six: potatoes, beets, bok choy, green onions, parsley, basil
Planning how to use my CSA veggies has pretty much gone out the window. My kitchen faces west, and it gets too hot in the late afternoon to use the oven. I've just been grabbing things out of the fridge and making things up as I go.
I've been pan sautéing anything and everything: beets, turnips, carrots, cabbage, zucchini. I find you can't go wrong with a base of red onion, garlic and lemon.
I'm still making kale chips in the mornings when it's cool.
Extra greens are finding their way into smoothies.
The cabbage came just in time to make some slaw for a potluck picnic. I'm not usually a fan of traditional picnic sides, but this lime and peanut coleslaw was deliciously different.
Speaking of non-traditional picnic sides, I've fallen in love with this no-mayo potato avocado salad. I skip the chives and add lemon zest. It's good either warm or chilled.
My favorite new-to-me veggie so far has been the candy-striped chioggia beets. I hope we get lots more of these. Aren't they pretty?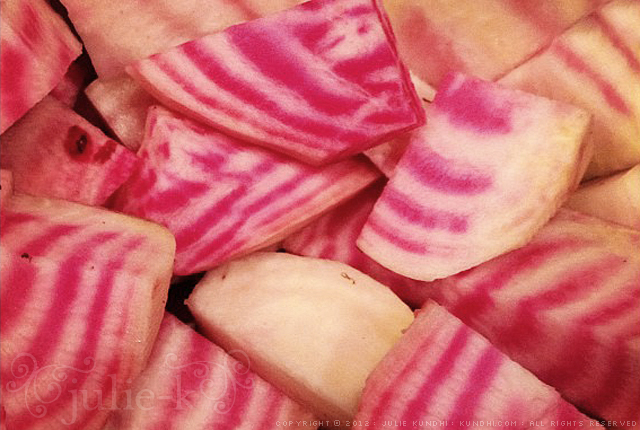 There's no CSA pickup this week. I'm looking forward to using up all of our odds and ends with generous amounts of basil and parsley.