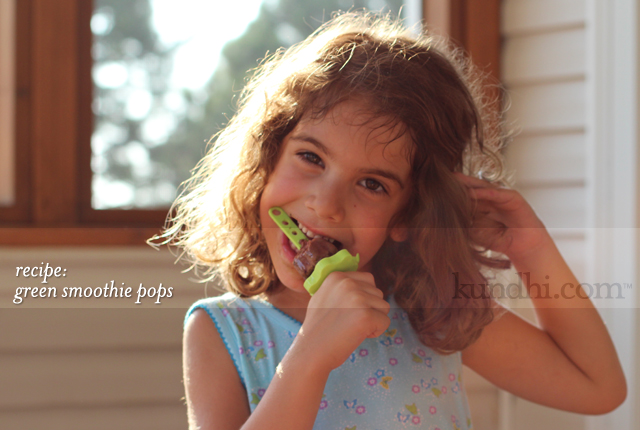 My daughter has been cooling off this summer with popsicles made from my green smoothies. Interestingly, she doesn't like drinking the smoothies, but she loves the pops. Go figure.
School may be starting next week, but it's still hot out. I have a feeling we'll be making these for the next few weeks. Here's my basic recipe:
Green Smoothie Pops
8 oz milk
2 cups loosely packed greens
2 cups frozen fruit partially thawed
1 scoop whey protein powder (optional)
reusable popsicle molds (mine make four pops)
Combine the milk and greens in a blender and process until liquified. It will be a lovely bright green color. Then add the fruit and powder and blend until you are happy with the consistency. It will no longer look green, so if you don't want to tell your kids there's spinach in them, your secret is safe with me.
Fill your popsicle molds and put them in the freezer. Enjoy the rest of the smoothie! (I try to drink one a day.)
I like using almond milk for my smoothies, but you can use any kind of milk or even water. My greens are usually spinach, but I have had good results with romaine and baby salad mix. Fruit is usually 2 cups of frozen strawberries with a small handful of blueberries. Sometimes I mix it up with 1 cup strawberries, 1 cup frozen mango. I'll occasionally add half a banana.
Go vegan: Leave out the whey protein or use hemp protein instead.
Feel free to play around with the fruit combinations and post your tasty variations in the comments. Enjoy!