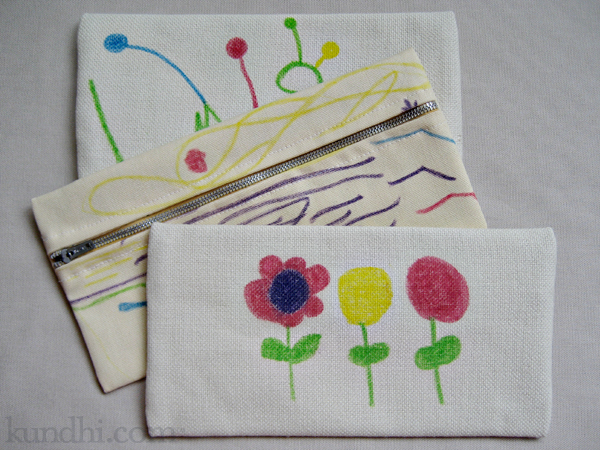 Ok, so this really could be a how to: personalize any gift. It's just that I really wanted to get my daughter involved with her teacher thank you gifts this year and this was all her idea.
She had been playing with a fabric gift card sleeve of mine and asked if we could make something similar for her teachers for "receipts and stuff." She also wanted to decorate it herself.
You could do this with any fabric gift: zipper pouch, bookmark, you could even buy some blank canvas tote bags from the craft store. The important thing is to get your child involved!
Materials
In addition to your project supplies, you'll need:
-disappearing ink pen
-fabric markers
Step 1
With your disappearing ink pen, mark off the area where your child can draw. It's ok if she wants to draw outside of the lines, just make sure that the most important artwork is in the marked area.
Step 2
Let her go to town! When she's finished, follow the directions on your fabric markers. Mine did not require heat to set the ink, but it did recommend two coats of ink. I traced over her lines after she went to bed.
Step 3
Sew up the gift!
What surprised me most about this project was how specific my daughter was for each drawing. Sueann received a picture of a treasure map (something she saw at school) with X marks the spot at a heart-shaped rock. Lorie received flowers (it was nature school—makes sense). Diane received a picture of "things falling" (not sure about that one—neither was Diane). They were all so different! She made sure I put a tag on each gift so it went to the correct teacher.
stash: I wish I thought to put a note about all of the recycled textiles that went into this gift. Nature school teachers are all about reusing. The fabric was thrifted and the zippers were recycled from other textiles. I wish I took a pic of the insides. She picked out different linings for each teacher, too!