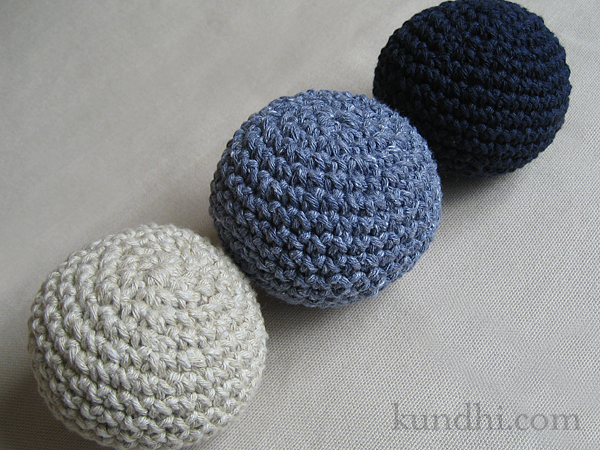 It took a few tries until I was satisfied with this pattern. At first, they were coming out too hexagon shaped, so I decided to alternate the increase/decrease placement every other row. That gives the ball a more round shape.
I also wasn't happy with the gaps that the decreases made, especially on the navy ball. You could see the white stuffing! Then I remembered this invisible decrease from Planet June. Problem solved!
Have fun with this one. On Friday I'll show you a little variation. Stay tuned!
Tiny Crochet Ball Pattern
worsted weight yarn (I used Aunt Lydia's cotton)
size G/6 (4.25mm) crochet hook
polyfil for stuffing
tapestry needle for weaving ends
sc: single crochet
inc: 2 sc in one stitch
dec: 1 sc over two stitches through the front loops only
gauge: not important, but mine are about 2 1/2 inches wide
Make a magic ring.
R1: 6 sc into ring
Ball worked as a spiral. Place marker to keep track of rounds.
R2: inc in each stitch around
R3: *inc, sc* around
R4: *2 sc, inc* around
R5: *inc, 3 sc* around
R6: *4 sc, inc* around
R7-11: sc around
R12: *dec, 4 sc* around
R13: *3 sc, dec* around
R14: *dec, 2 sc* around
R15: *1 sc, dec* around
Stuff with polyfil
R16: dec around