So many knitters are scared of the s-word.* It's really not that terrible. In fact, I've been cutting into sweaters for years to make pillows, scarves and tote bags. You just need to get over the fear that all of the stitches will immediately unravel. Take it from someone who unravels sweaters a lot. It's not that easy for a sweater to fall apart.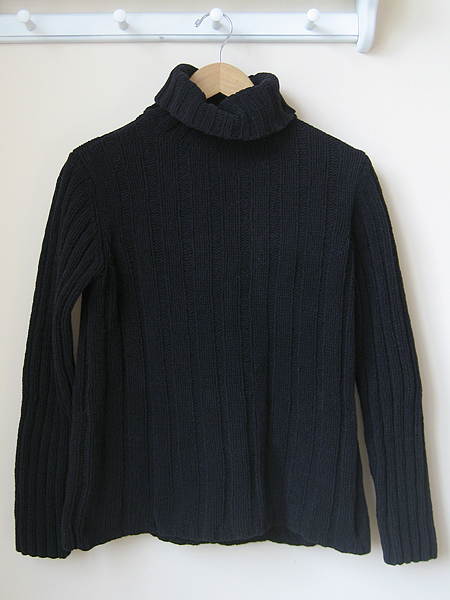 original turtleneck
I've been cleaning out my closet and have a lot of beautiful pullover sweaters that I don't wear anymore. I keep them because the wool is so nice. Sometimes I think I will knit them into something else. I don't know where I think I'm going to find the time. After my Fair Isle class at knitting retreat, I decided to turn my pullovers into cardigans.

new cardigan
I decided to practice on a thrifted sweater first. I picked a cotton/acrylic blend that was in the donation pile. It had a weird texture — kind of like chenille. Man, was that collar hard to unravel. If you want to practice first, I recommend trying a sweater made out of a nice, simple, plain yarn.
This is a short and sweet tutorial. I assume you understand the anatomy of a knit stitch, know how to pick up stitches and crochet a decorative trim.
Materials:
seam ripper
sharp scissors
sewing machine
crochet hook
Step 1
Remove the seam that attaches the collar to the sweater. Unravel collar yarn and save for later.
Step 2
Find the middle column of stitches. Using a sewing machine, sew a line of stitches two columns to the right and two columns to the left.
Step 3
Carefully cut up the middle column of stitches.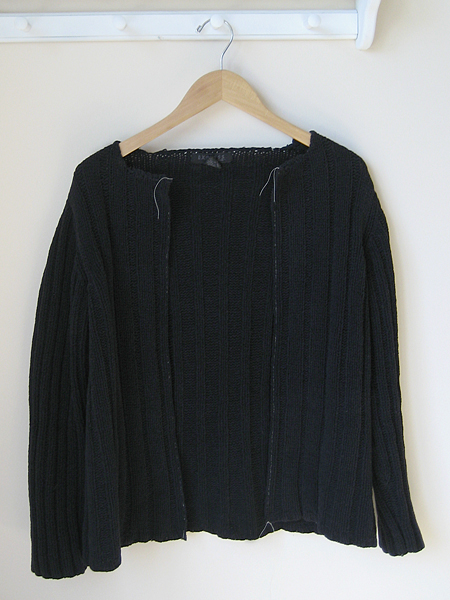 collar removed, stitches sewn and cut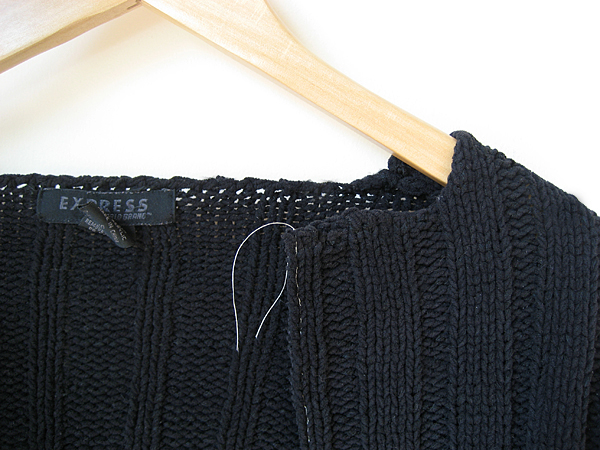 close up of sewn stitches
Step 4
Using the unraveled collar yarn, pick up and single crochet a stitch for each row of stitches. I started at the bottom, worked my way up and around the neck and back down the other side. (Some will tell you to pick up three stitches for every four rows. I say do what feels right, looks good and doesn't pucker.)
Step 5
Depending on how much yarn you have left, crochet a decorative border. I chose a simple shell edging.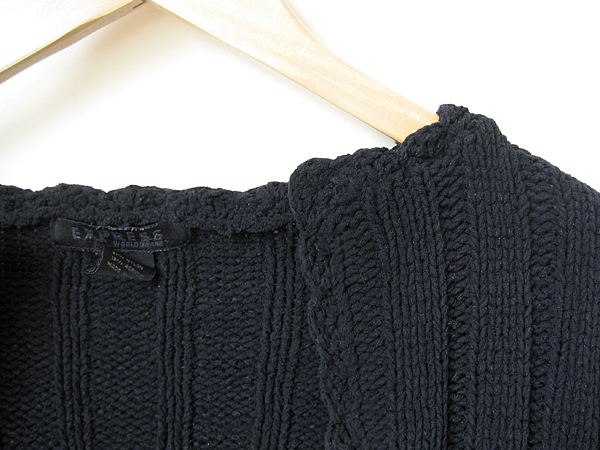 close up of crochet edge
Options
If you want to try this with a crew neck and don't have enough matching yarn, use a different color or texture to jazz things up. You could also add buttons using chain stitch button holes.
This project is easy once you get over the fear of cutting into knitted stitches. I finished this in two afternoons.
refashion: I'm excited to start wearing some of my favorite wool sweaters again. I'll be posting my progress as I go. A special thanks to Lynn Anne for giving me the courage to cut!
*s-word is steek!