I first heard about this at knitting retreat. It's a really simple idea and I can't believe it has never occurred to me on my own. I love skinny stripes, but breaking yarn at each row leaves too many ends to weave. I always figured that I'd have to do two rows of each color in order to carry the yarn. But, if you do three colors, there's yarn at the end of every row just waiting to be carried up. So simple! So cool!
This works for both knitting and crochet. I'll show you what I mean on my dishcloth in progress, which happens to be crochet. (Knitters, ignore the chain row and cast on with Color A. Row 1 begins with Color B, etc.)
how to: crochet or knit single row stripes
Chain your number of stitches in Color A (navy).
R1: DC across in Color A (navy).
R2: Join in Color B (tan) and DC across.
R3: Join in Color C (light blue) and DC across.
R4: Carry up Color A and DC across.
R5: Carry up Color B and DC across.
R6: Carry up Color C and DC across.
repeat rows 4-6 until finished.
When you carry up the yarn, your edges will look like this.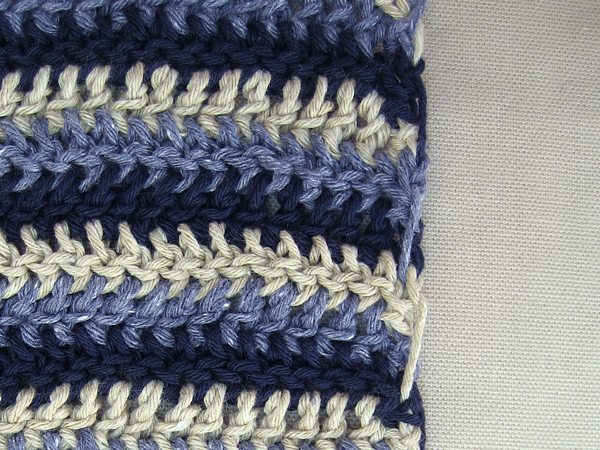 I know some crocheters like to incorporate the transition from one yarn to the other in their chain stitches, but I prefer to start my rows with the faux double crochet, so here's how I catch the yarn on the way up. I assume you know how to do a double crochet, so I'm not including pics of all the stitch steps, just the ones that are different.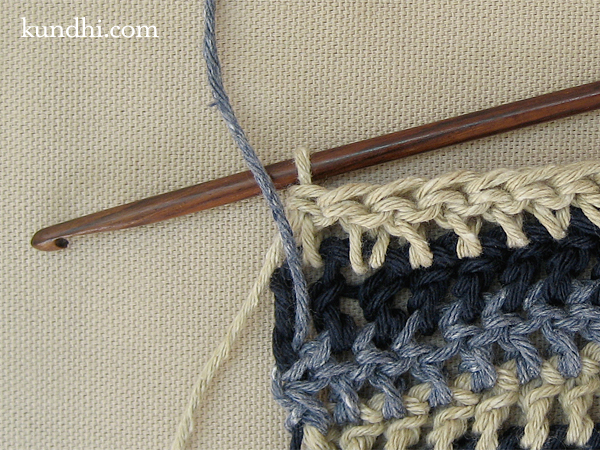 Work across until you have one stitch left. Bring the next yarn up and over your working yarn.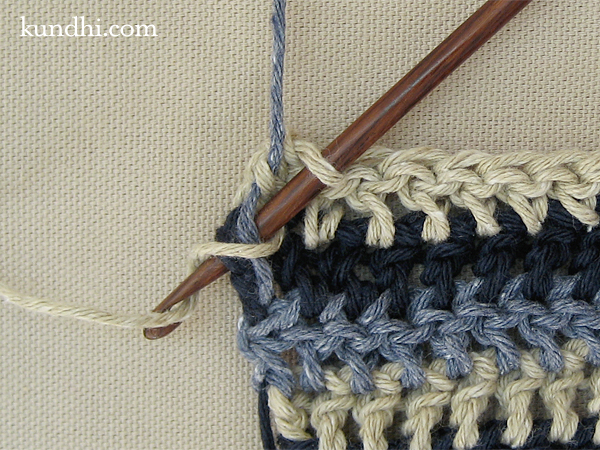 Continue on as usual with the working yarn. See how the carried yarn is getting tucked neatly in the work?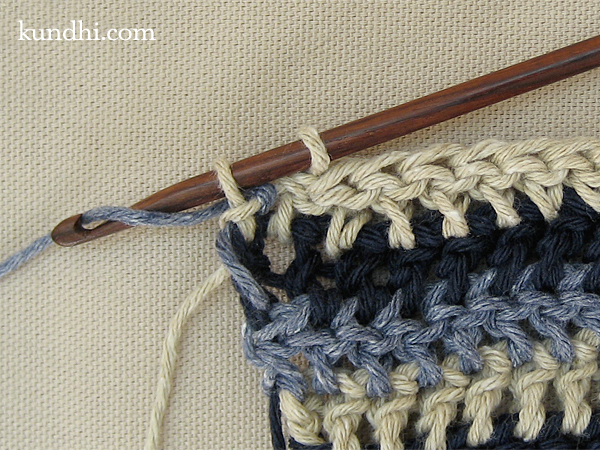 When you have two loops left on your hook, drop the working yarn and pick up the new yarn. Yarn over and pull through the last too loops.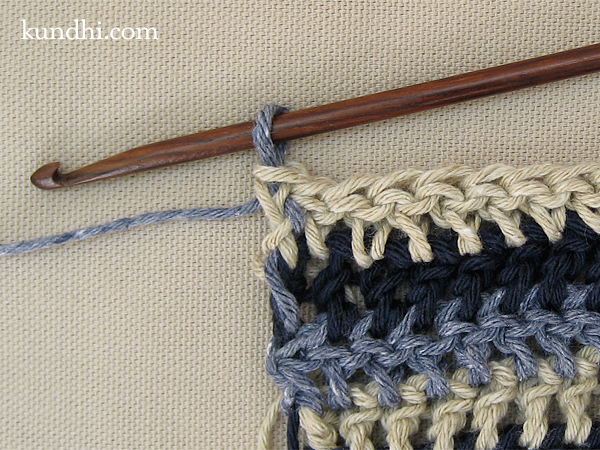 Look at that! Now you are ready to turn your work and start the next row with the new yarn!
stash: This is an awesome stash busting idea. Imagine how many more odds and ends you can use up with this method!