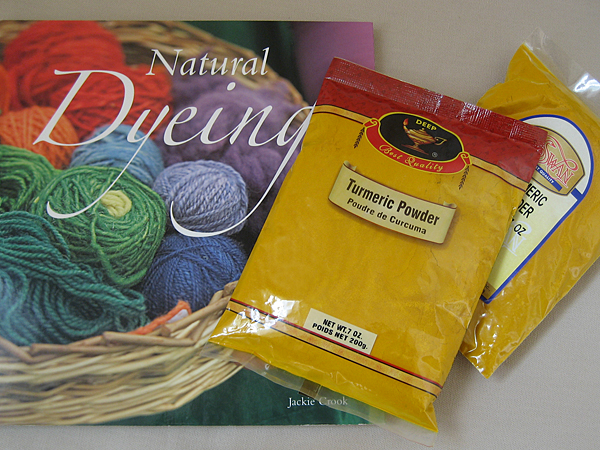 This book has been on my mind on and off for the past year, but I'm working on so many different things. When would I ever find time to try something new? Last Wednesday at knitting group I spotted a copy in the Barnes and Noble sale bin and figured it was time to come home with me.
I already have plenty things to dye with in my pantry: tea, henna and lots of turmeric. I'm also itching to try red cabbage, onion skin and avocado skin. Don't think I'll ever be able to dye with blackberries. though. They'd be gone from the refrigerator too fast!
The steps are well illustrated and the photography is beautiful, but I'm disappointed in the choice of mordants. They are all toxic metals and definitely not something I can pick up locally. Plus, I don't think I'd feel comfortable playing around with that stuff while I've got a curious little girl one step behind me in the kitchen. Right now I'm at the "add a glug of vinegar to the slow cooker" stage.
I'll definitely be keeping my copy, though. Like I said, the photography is beautiful. I'm sure it will be a starting point for many ideas. At least I'll be able to do something with all of my turmeric!
review: Natural Dyeing by Jackie Cook isn't on sale anywhere else that I can find. It must have been because the cover of my book was a little worn.