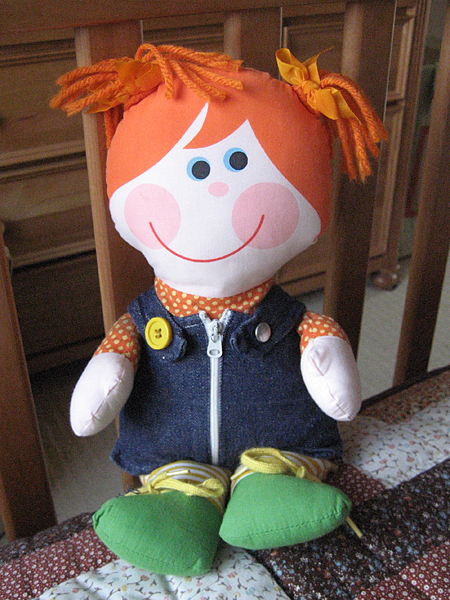 Did you have a Dressy Bessy (or Dapper Dan?) when you were little? I did and I loved her! My daughter is learning to button/snap/tie and I really wanted to get her one. However, the dolls from the last few decades look very different than the one I had. This one isn't so bad. I don't even recognize this one!
Here is the Dressy Bessy I had. I've been searching on ebay for the past few months and these girls are hard to come by in nice condition. (New in the box went for $84!) Then I started to see dolls like the one above. She looks like the doll I remember, but doesn't have the vinyl shoes and vest. I figured I could live without them if I could get something similar and clean.
I was so happy to win her! I'm also happy that my daughter likes her, although she's not a fan of the buttons and snaps. I guess she's officially a member of the Velcro generation. I'm going to keep working on her, though. Sooner or later she's got to learn how to button/snap her own pants!
Do you have a favorite doll or toy from your past that you really wanted for your kids? When you gave it to them, they like it as much as you did?