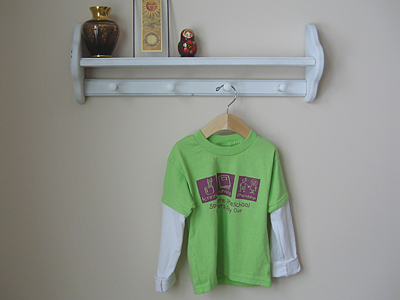 I was putting away laundry in my daughter's dresser and found her preschool t-shirt. I can't remember the last time it was warm enough to wear short sleeves. I don't think it's even been worn once. I decided to add some long sleeves so she can wear it before she outgrows it.
(I know what you are thinking. Why not just layer it over a long sleeve shirt and save yourself the trouble? Well, not only does my daughter dislike wearing sweaters, she doesn't like to layer shirts, either.)
I used a size 4-5 T sleeve to make the pattern and figured I'll just roll them up for now. Maybe next fall, I can use them on a different shirt. Look at that beautifully serged seam. Don't you just love it?
recycle: I used the body of one of my old t-shirts to make the sleeves. I was going to post a tutorial, but this seems easy enough. What do you think?