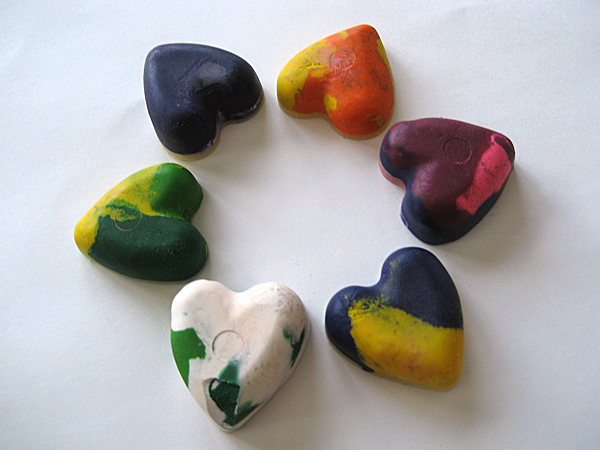 Maybe I should call these Really Lazy Crayon Shapes. I'd been thinking of making them for awhile, but all of the tutorials I found online suggested baking in the oven, melting over a double boiler or melting into cups and pouring into molds. Those were just too many steps for me.
I found a silicone mold at the thrift shop for only a few bucks, so I wasn't too concerned if I ruined it. I threw all caution to the wind and microwaved the crayons directly in the mold. It was simple, fast and easy to clean up.
Materials
crayon bits
silicone mold
knife
toothpick
Step 1
Put your crayon bits directly in the mold. Break up any bits that are too big with a knife.
Step 2
Microwave on high for 1-2 minutes. (I'm sure times will vary based on microwaves. Watch your first batch carefully!) Use a toothpick to stir if your bits aren't melting evenly.
Step 3
Allow to cool and then pop them out of the mold. I put mine outside because we're having a frigid winter and it didn't take long, but you could stick them in the freezer, too.
Clean up: Put some water in the mold, microwave it for about a minute and dump it out. The crayon residue wipes out easily with a paper towel.
*After searching, I found that my mold is actually an ice cube tray and shouldn't be exposed to heat. It held up just fine, but I wouldn't use it for ice cubes or food after heating just to be safe.
recycle: This is a great way to use all of those crayon bits that are too small for little hands to hold.