thrifty finds: advent calendar
I've also been kicking it into high gear for the holidays. Unfortunately, that means it's hard to show you work-in-progress pictures. I've knitted quite a few gifts over the past year and spent yesterday weaving in ends, soaking them in wool wash and blocking.
I'm also trying to play catch-up for Advent. Two summers ago I found this wooden L.L. Bean Advent calendar at Goodwill. I couldn't help noticing how cute it was—especially for $4.99. Then the Goodwill lady told me everything in housewares was 50% off, so I bought it.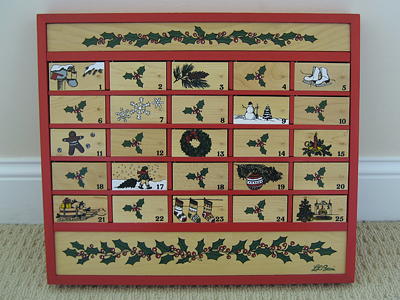 It's pretty much in mint condition except for a bit of double-sticky foam tape in a few boxes that needs to be removed. Here's what it looks like when you open the little door.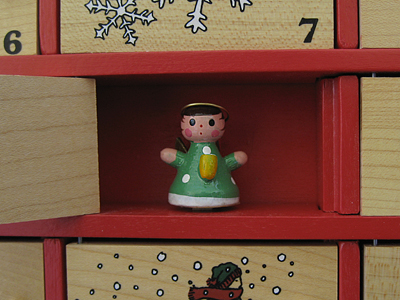 It came with a little bag of holiday trinkets. Most of them are ornaments with the strings removed. I guess they stuck them in the boxes with the sticky tape.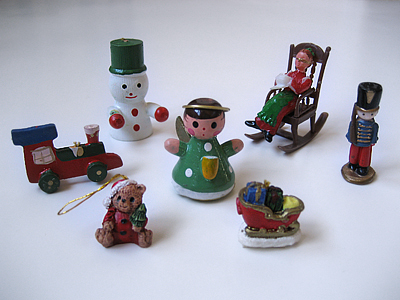 I'm going to re-glue the thread loops and turn them back into ornaments. My daughter has a little tree in the kitchen and each day we'll take an ornament out to decorate her tree. We even have a Joseph, Mary and little baby Jesus for December 25th!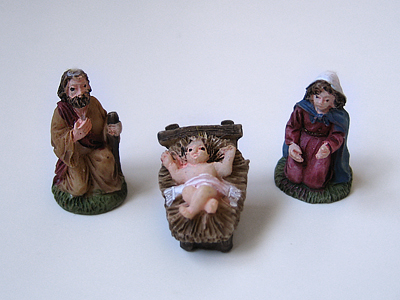 I know I am late getting started, so I'd really like to get it finished this weekend. It will be my second project using hot glue. Wish me luck!
thrifting: Sometimes I can't believe the little gems I find at the thrift store. I think I even like it better than the one they sell now.