Yesterday we went to John Deere-themed birthday party for a four-year-old boy. My husband asked, "could we just buy a gift? Does everything have to be handmade? Can't we get something from the store?" I agreed, as long as we didn't buy him an actual tractor toy. I figured every four-year-old boy must have at least some kind of tractor, right? How would we know what to get? What if someone gets him the same tractor? Let's get him some books about tractors instead. And maybe some tractor stickers, too. As my husband bought into my reasoning, I was secretly planning a handmade, tractor-themed, re-usable gift bag.
I admit I was planning to buy some John Deer fabric to make this. Just before I left the house, I decided to dig through my stash and I found two fat quarters of tractor-green fabric! I think it's a polyester blend and it feels way more durable than quilting cotton. I figured I could make my own tractor-themed artwork with my new hobby.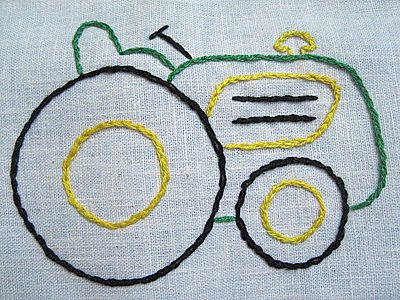 In the end, my husband and I were both happy with our gift. I hope my daughter's friend will be, too.
recycle: I bought a big stack of colored cloth napkins at a garage sale awhile ago. I think they were napkins. They kind of feel like the fabric used to make restaurant napkins, except they were every color of the rainbow and only a few matched. Whatever they used to be, they are nice and sturdy. I think they'll be great for storing all kinds of tractors and trucks.