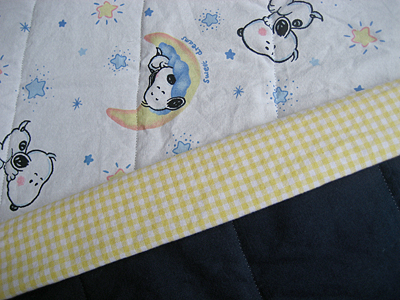 Every time I turn around it seems like someone else is having a baby. I love crafting for babies. This quilt is almost finished. All I need to do is attach the binding. I bought a lot of this fabric off of ebay awhile ago. You might be thinking, "That looks familiar!" The first quilt I made was backed with fleece. This one is backed with navy cotton. (It's really not that dark, but I don't have much sun for taking pictures today.) I only have a little bit of the binding fabric, but it should be just enough.
Update on birthday crafting: The knitted gift is finished. The embroidery tea towels are almost done. These are going much better than my experiment with cross stitch. I'm using a simple split stitch and loving it. I can't wait until I can post pictures!
stash: So far I've used stash yarn, embroidery thread, fabric and batting for all of my projects. Having everything at my fingertips really makes all of the thrifting and garage sale-ing I did earlier in the year worth it!