Last weekend my friend Jennifer drove up from Kansas City to hang out. It had been over 20 years since the last time we'd seen each other. We had a lot of catching up to do. She wanted to learn how to knit, which is a great way to spend your catching-up time. I cast on some wool to show her how to start. We kept talking and I kept knitting. Without realizing it, I had knit all of my yarn. What was I going to do with this gorgeous rectangle?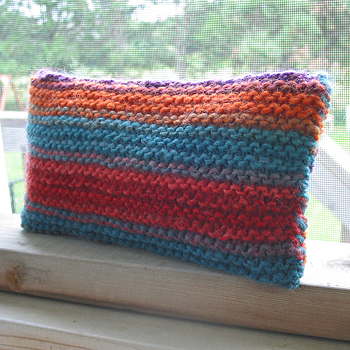 I folded my oversized swatch in half, whip stitched the sides and added a lining. The result: super duper cute clutch! The good thing about me finishing this so fast is that I got to show Jennifer how to bind off. She caught on quickly and is doing awesome with her first scarf. Another person successfully converted to the fiber arts. Yay!
Visit my etsy shop for close up pics of those lovely garter stitches.
stash: This is a great stash busting project. Yarn was gifted to me by a friend who was ironically destashing it. Denim lining from my garage sale stash. Thrifted zipper.