I'm participating in Sew, Mama, Sew's May Giveaway Day. Remember that beautiful tablecloth I was going to make into tote bags? Here's the first one!
The top has a slight curve because the tablecloth is round. I love how the trim fabric contrasts with the floral print. The lace tape really pulls it together!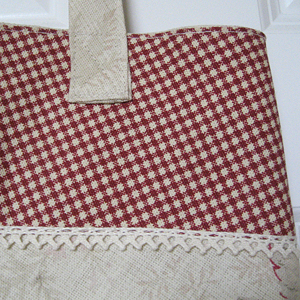 I'll be making three more for my etsy shop, but I'm giving this one away! I'll even ship internationally.
All you have to do to enter is leave a comment on this post. Yep! That's it! You have until midnight, May 31st to enter. I will choose a winner with a random number generator. After you leave a comment, check out Sew, Mama, Sew for more fabulous giveaways!
recycle: original tablecloth purchased from garage sale here
Like this tote? Subscribe to my RSS feed or follow me on twitter for more recycled crafty goodness!