…not enough finished.
I've been really busy lately, but don't have many pictures to post. How does that happen? This week I worked on a custom sweater bag with coordinating box bag. It's almost ready for pics. Here's a peek.
Doesn't it look soft? It's cashmere and sewing up beautifully.
I also finished up a gift for a friend who is moving at the end of the month. She brought some yarn to knitting group to destash because she didn't want to move it all back to NYC with her. The yarn was so pretty and soft I decided to knit a cowl for her. You can check out pics on her blog. I've been really bad with pics this week. I just realized I didn't take one of another box bag I finished and mailed off. Oh, well.
I've also started some refashioning projects. The denim pants are halfway to becoming a skirt. The striped shirt is going to become a cardigan. The floral shirt and jacket were from my neighbor's garage sale.* I wasn't planning to buy anything at the neighborhood sales this weekend, but felt I should at least stop by and say hello. I'm not sure how these made it home with me. Oops! The jacket has a removable quilted lining! Both are a little too big, but should be easy to resize.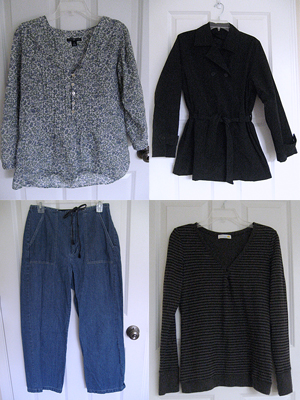 A tablecloth sort of kind of came home with me as well. I'm thinking it will make some really beautiful tote bags.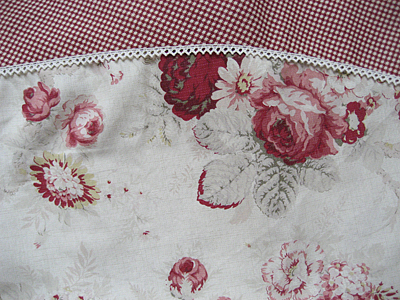 All right. Better stop writing and start sewing so I have something to post tomorrow!
*If you are looking for kids clothes and toys, come to our neighborhood this weekend. The garage sales are kid central around here!
recycle and refashion: sweater was thrifted, client provided coordinating fabric, box bags made from stash fabric, clothes are from my closet, my mom, and garage sales, tablecloth from garage sale