Remember when I had that cute-as-a-button card idea in my head and it just wouldn't go away until I made them? Well, I've had another idea bouncing around in the ol' cabeza for awhile: knitting with grocery bags. I didn't invent the idea. Lots of people have been doing it for years. We even had a program on it at knitting group last month. That's what really got me excited to try it. I had wound some plastic bag "yarn" using the loop method and planned to knit up two squares to make a zippered tote. I had an eight-inch zipper recycled from a pair of T's old pants that I was going to use.
Well, knitting with double-thick Target bag yarn was horrible. The bags are sticky and even with size 13 straights, knitting a square was brutal on my wrists. I couldn't bear another square, so I folded it in half, seamed up the sides, and made a clutch instead.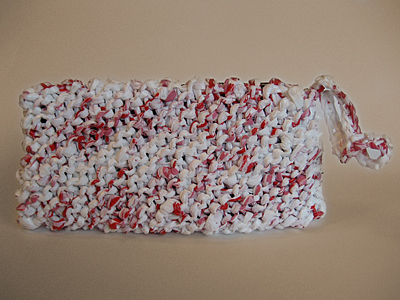 I was surprised at how frustrating it was to knit this up, especially because the resulting knit "fabric" is so flexible. It's actually kind of soft. And I really liked the texture.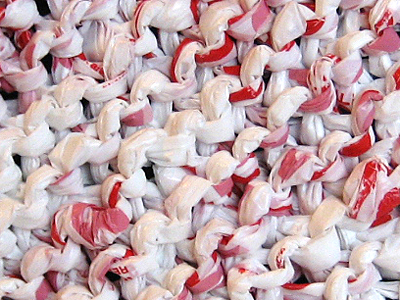 The lining came from the same pants as the zipper. Sewing that in was also a challenge!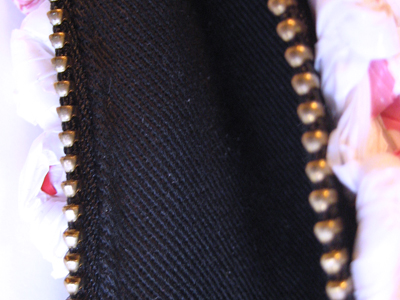 Even after I finished this project, I still couldn't let go of the idea. I wanted a successful project. So I wound some more plastic yarn using a very cool single-ply method that Jennifer showed us at knitting group. Unfortunately, Jennifer is blogless, but she brought some very cool items for show-n-tell. She's crocheted rugs, totes and even place mats out of bags. A few weeks ago she showed me how to make a crocheted tote bag. Here's the base: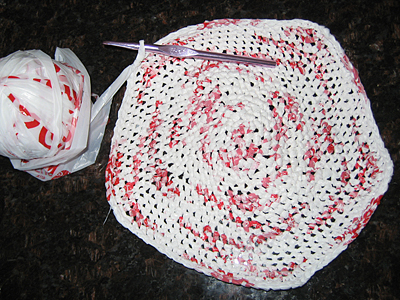 I like how this is shaping up much better and it is much easier to crochet the single-ply yarn. I also like the texture; it kind of looks like a woven basket.
The only problem is now that I've had some success, my interest has kind of dropped off a little bit. I do a few rounds here and there, but not every day. Don't expect any updates on this project anytime soon. Maybe in a few months I'll have some progress to show.