It all started one Sunday morning in November:
Me: Why is Liz calling on a Sunday morning?
…Hello.
Liz: Kay Gardiner is coming to String of Purls to teach a Log Cabin class on December 28th. I'm calling at noon to register myself and Mary Pat. Wanna go?
Me: Yes!
Notice I didn't ask any questions like: How much does it cost? What's the time? Will I be able to get someone to look after M? I just say "Yes!"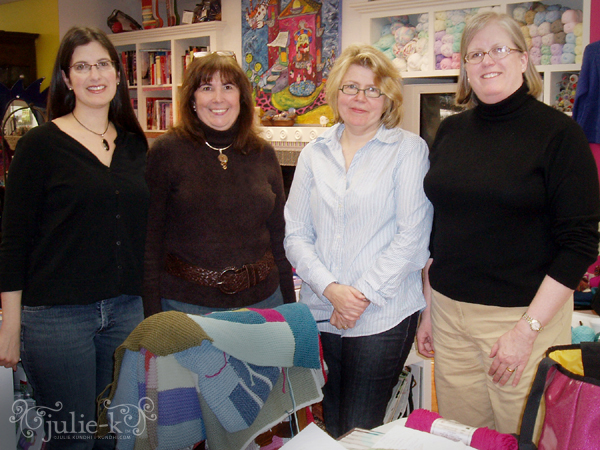 For you non-knitters out there, Kay is from Mason Dixon Knitting and wrote the pattern for M's baby blanket in the book she co-authored with Ann Shayne. Y'all, this is my favorite knitting book right now and I want to knit practically every pattern. And the log cabining—well, I just love it.
I was lucky that Jocelyn was free that day; she took M while I headed up to Omaha for a fun-filled day with yarn. The class was awesome (you can see me right over Kay's shoulder). Kay is a great speaker and shared her thoughts on knitting, log cabining, yarn, color and more. We worked on a pillow cushion that I am knitting up in a color scheme to match our bedroom. After the class, I bought the Manos for my socks and then we went to lunch. Before we had a chance to order, guess who walked in needing a lunch buddy? Kay! So we got to have lunch with her and talk about the book and publishing process.
After lunch it was off to Personal Threads. Every year after the holidays they have a huge yarn sale. I finally got to touch yarns that I had only seen online and wound up with some Koigu KPPPM and some Noro Kureyon.
It was my first day away from M for more than a few hours and I was worried that I wouldn't do so well. Thank goodness I had all that knitting and yarn to keep myself from going crazy. Great friends, knitting and yarn—you can't ask for anything more!