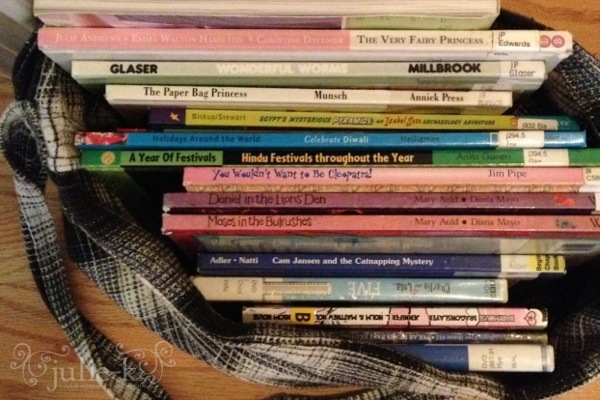 Printed books are alive and well in our house. These don't even include the many Magic Tree House and Ivy and Bean books my daughter regularly checks out, in addition to the craft books I bring home.
Yes, I do tend to read a lot electronically, but if it's not interactive, my daughter prefers her books on paper. I'm happy with that, and I'm not alone. A recent Pew Research report found "More than nine in ten parents of minor children say it is important to them that their children read print books."
We bring home a back-breaking bag of books from the library each week, but I'm not complaining. My daughter will most likely spend a good part of her life in front of a screen. There's no need to rush it.
tote note: This is one of the first refashioned bags I made out of one of my very favorite shirts. I tried to look for the original link in my archives, but I either didn't write about it or didn't do a good job of making it searchable. Anyway, it's still the favorite shirt/bag I own.