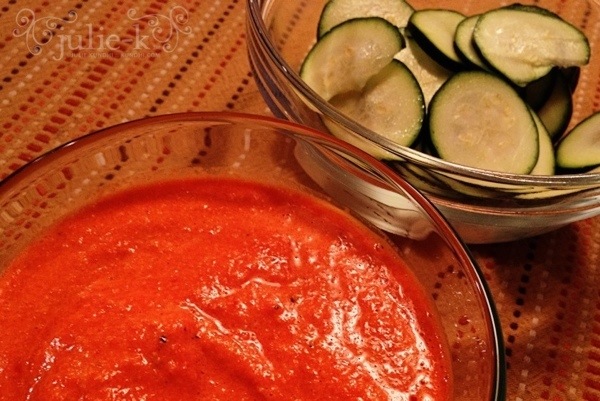 There's cheesecake in the fridge and a box of Girl Scout cookies in the pantry. I'm trying very hard not to eat either.
The other night I was tired and hungry, and needed a quick healthy alternative. I whipped up this simple little dip and was pleasantly surprised by the creamy sweet taste.
It was a little thin, but thickened up after a few hours in the fridge. The next day I drizzled it over some leftover tofu and couscous. Yum! I finished it off with some pretzels.
I'll be making sure to stash some jarred peppers in the pantry for the future.
Roasted Red Pepper Dip
1 12-14 oz jar of roasted red peppers (packed in water not oil) drained
1/3 cup almonds, skins removed*
1 small garlic clove
pinch of sea salt
*how to remove almond skins here
Combine everything in a food processor. I actually used my NutriBullet.
The "chips" are just raw zucchini thinly sliced on my cheapo mandoline slicer purchased from the grocery store.
What are some of your favorite easy snacks? Share in the comments!