You know how sometimes the universe feels like it is trying to tell you something? That it's been trying to tell you something for awhile, but you didn't hear it until you were ready to listen? Yesterday when I opened Cloth Paper Scissors, I landed on this article and it hit me.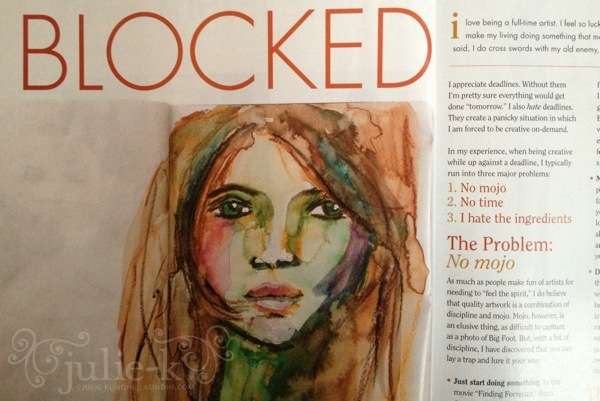 I've been struggling with my creativity for a long time now, which if you read this blog regularly, you've probably noticed. I've been thinking about it a lot, and there are many excuses that I can come up with to justify the creative emptiness. But the excuses don't really matter. I know I can be creative on demand, my job requires it. So what happened to everything else?
Establishing and keeping a routine can be even more important than having a lot of time. Inertia is the death of creativity. You have to stay in the groove. When you get out of the groove, you start to dread the work, because you know it's going to suck for a while — it's going to suck until you get back into the flow. – Austin Kleon, Steal Like an Artist
Whatever my reasons, the result was I just stopped doing creative things. I got out of the habit. Being creative was no longer a routine. Instead, it turned into something I loved and missed, but couldn't find my way back to. Yesterday, that article made me realize that there is no path back to creativity. You just have to start doing it.
It's going to be uncomfortable. Photos aren't going to be perfect. Words aren't going to be eloquent. The only thing I can commit to is documenting one creative thing each day.
I'm jumping back into the flow.