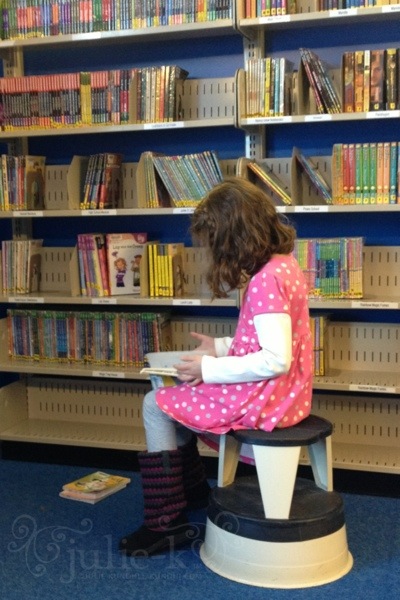 When my daughter was younger, many of our afternoons were spent with a big stack of books on the living room floor. I'd read while crocheting and she'd turn the pages. As she began to read on her own, she'd spent hours in her room re-reading those books to herself. I knew the stories. I was familiar with the characters. Everything she knew, I knew.
Then she started kindergarten and the librarian introduced her to chapter books. In the beginning we read them together, first alternating pages and then alternating chapters. Then one day she sat down and read a Judy Moody from cover to cover by herself and that was it.
At one magical instant in your early childhood, the page of a book—that string of confused, alien ciphers—shivered into meaning. Words spoke to you, gave up their secrets; at that moment, whole universes opened. You became, irrevocably, a reader. — Alberto Manguel
Now I am officially out of the loop and it's a little weird. I don't know the names of the Zig Zag kids or about any of the Magic Treehouse adventures. Do Fashion Kitty and Bad Kitty have actual names? What about Judy Moody's brother Stink? All the sudden, knowing the name of the Man in the Yellow Hat no longer seems impressive. (It's Ted, by the way.)
I love that we still go to the library together. I love curling up with her on the couch while we both read our own stories. I love that she loves books. But I have to admit that when I watch her become completely absorbed, I imagine the characters and stories swirling around in her head, and I can't help but feel a little left out.