There's something special about a good book. The lines between fiction and real life get blurred. You feel like you really know the characters and miss their company when you're finished reading. You almost don't want their story to end because you hate saying goodbye.
A good book can take over your life. "Just one more chapter" becomes "is it really 2 am?" You abandon things like knitting, crochet, sewing, blogging — even laundry. You'll be hunched over your book in the living room and hear grumbles from the kitchen that "there's nothing in this house to eat."
I'm not the only one in the house bitten by the book worm. The first day of summer vacation my daughter insisted we go to the library to sign up for the reading program. A librarian had visited school and my daughter knew exactly where to go and what to do. She picked out her books and announced that she was ready to get her own library card.
Once home, she quickly finished her picture books and picked up Judy Moody, Girl Detective. I should have seen it coming, but I was surprised on our next visit that she didn't even want to look in the picture book section. One chapter book and my girl was hooked. We came home with another Judy Moody, a few Cam Jansens and a Little House.
And so it begins: reading at the table, in the car, before going to bed. "Just one more chapter, Mama!" "Can I just finish this page?"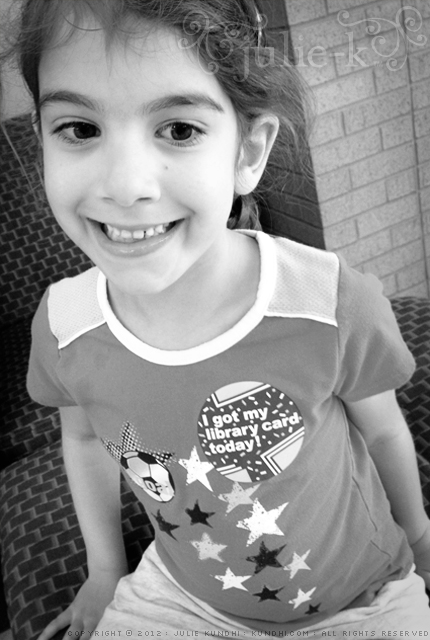 I've finally come back to reality. The laundry is folded and the pantry has been restocked. I've got an untouched stack of craft books that need to be read before their due date. Friends are having babies this summer and I've got to start on gifts. Time to get back in the world of non-fiction and get some things done!
My daughter, on the other hand, is a lost cause. I'm so happy for her.