creative books on my nightstand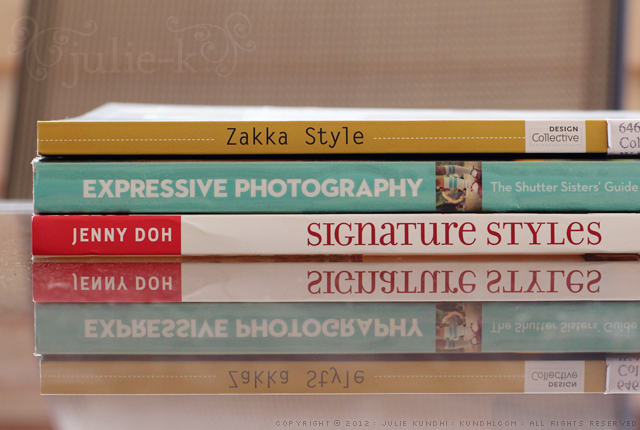 I've been spending a lot of time thinking about creativity after my last post. I've also been spending time with some good books and I thought I'd share them with you. (all links go to amazon.com)
Jenny Doh's Signature Styles: Some of my favorite artists are in here, as well as a few I've never heard of before. It doesn't focus on their work as much as their own personal style. Although, they've each shared a pattern, too. I love reading about what inspires these women.
The Shutter Sisters' Expressive Photography: I had to get this one via Interlibrary Loan and it was worth the wait. I like how each topic, whether it be portraits or nature, is broken down the same way: approach, perspective, composition, lighting, details and processing. I need to spend more time behind my camera lens.
Rashida Coleman-Hale's Zakka Style: I'm a huge fan of linen and love pretty much anything zakka. This book contains patterns from 24 different artists. I don't know if I'll actually make any of them. I keep flipping through it like it's a picture book. Coleman-Hale just happens to be featured in Signature Styles.
That's what I'm reading these days. What about you? Share in the comments and have creative day!