I wanted to make some tiny crochet flowers last week, and figured I could just add a petal to my four leaf clover pattern. Five petals were too bulky, however, and they looked crowded. I reworked the petal a little bit and came up with these cuties. Happy Spring and enjoy the pattern!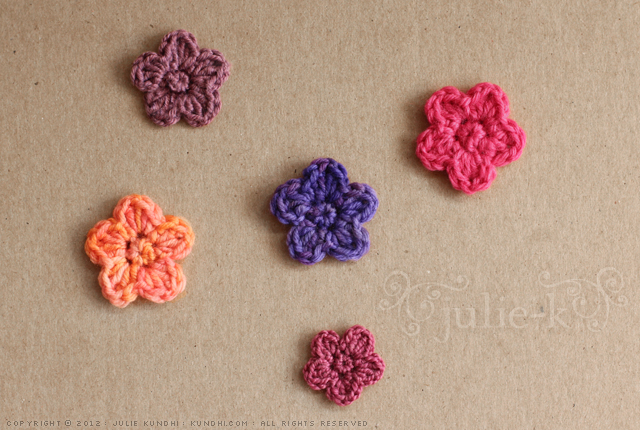 Tiny Crochet Flower Pattern
worsted weight yarn
size F/5 (3.75mm) crochet hook
tapestry needle for weaving ends
dc: double crochet
hdc: half double crochet
sc: single crochet
sl st: slip stitch
gauge: not important, but my worsted weight flowers are about 1 1/2 inches across.
Note: The smaller flowers were made with a smaller hooks and different sock yarns.
Make a magic ring.
R1: chain 1, sc into loop 5 times, pull loop closed, join with sl st in first stitch
R2: continue in the first stitch with a hdc, dc, chain 1, dc, hdc; *sl st, hdc, dc, ch1, dc, hdc* in each of the four remaining stitches, finish with a sl st
. . . . . . . . . .
I've been trying to document my creative projects at least once a day using Instagram. It automatically posts my pictures to twitter, facebook, flickr and my rss feed. If only it could update the blog! Anyway, if you are on any of these platforms, stop by and say hello!