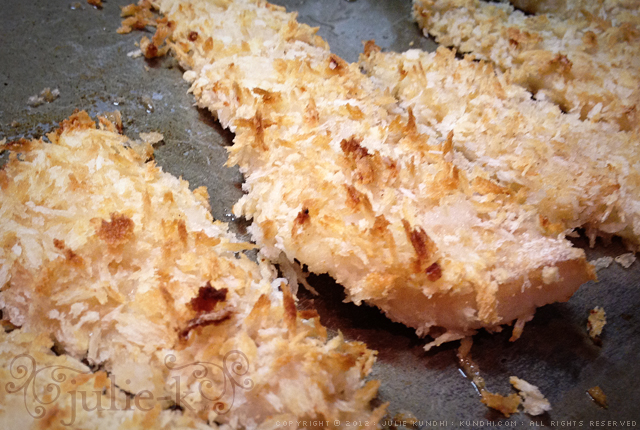 A few weeks ago a friend told me Trader Joe's has halibut fish sticks. I got excited because my daughter can't have cod, and well, cod is pretty much the main ingredient in all stick -shaped fish. There must have been a run on them because I've checked a few times and can't find any. TJ's had some nice wild caught dover sole, though, so I decided to try my hand at sticks from scratch.
I checked out a few recipes online and and wound up doing my own thing. It seems like the trick to a good stick is dipping in flour first, then egg, then bread crumbs. I mixed some Old Bay in with the flour, used egg whites from a carton, and got all fancy with panko bread crumbs tossed with salt, white pepper and garlic powder.
They turned out very tasty and pretty healthy, too. I sprayed a little olive oil on the pan and over the breaded fish, baked them until the insides were 140 degrees and then put them under the broiler for a few minutes to brown the crumbs.
I have to admit that even though these are much better for you than the processed ones, I'm still interested in trying those halibut sticks!