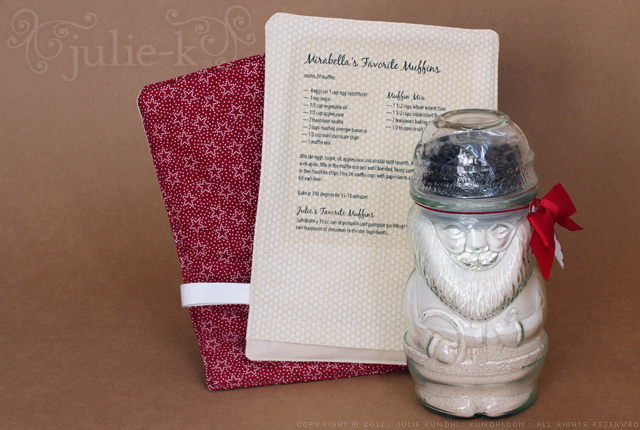 Wow. I first posted about these muffins over three years ago. They have really stood the test of time. If my daughter had her way, we'd make a batch every week. With a seal of approval like that, I figured they would make good "in-a-jar" gifts.
Originally, I had planned to give each mix with the recipe printed on a little card. But after attending a local craft retreat, I was inspired to print the recipe on a potholder instead. (Thanks for the idea, Kaitlyn!) A few things:
I bought the Santa jars on clearance the year before. They were the perfect size for the muffin mix and a little bag of mini chips.
I made an oven-mitt style potholder using fabric and thermal batting from my stash.
I ordered special transfer paper for this project. Because it will be used near an oven, I chose a kind that can withstand the heat of an iron after it's been transferred to fabric.
This was a fun gift to make and give. If you ever do in-a-jar gifts that go in the oven, a potholder is a great way to share the recipe.
project notes: Insul-Bright insulated lining, SuperSoft inket transfer paper, original muffin post, in-a-jar gift ideas