What do you know about Angelina Jolie? Even if you don't read gossip websites or magazines, I bet you know she had crazy relationship with Billy Bob, has lots of tattoos and stole Brad away from Jennifer. It's amazing what you can learn from the headlines in the grocery checkout line. It's also amazing to find out what the tabloids don't tell you.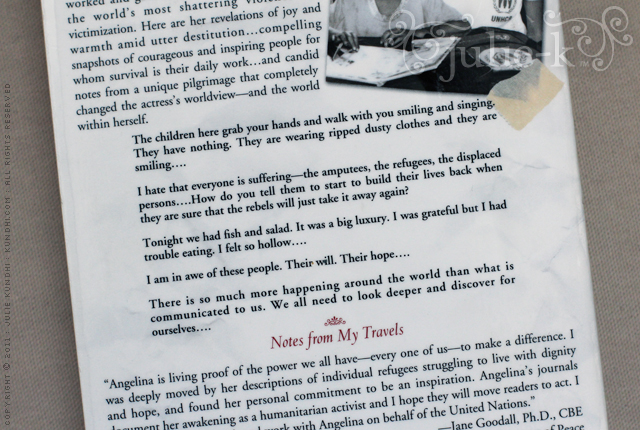 Jolie has been a Goodwill Ambassador for the United Nations High Commissioner for Refugees (UNHCR) since 2001. She has been on field missions around the world and met with internally displaced persons in more than 30 countries. Her mission is to bring awareness to the plight of over 35 million refugees in the world.
When I picked up Notes from My Travels, I didn't know what to expect. The journals from Sierra Leone, Tanzania, Pakistan, Cambodia and Ecuador are thoughtful, moving and surprisingly unbiased. She reports on what she sees and experiences. She writes the stories people tell her. She mentions how grateful she is for what she has many times throughout the book. I found myself saying the same thing, and still do.
This book will stay with you. Parts of it are hard to read. The accounts are raw and from the heart. Families, communities, mothers and children have all suffered horrible, terrible things.
You may be thinking, why would I want to read this? In fact, my husband asked me that very question. All I can tell you is that amidst all of the sadness, there is a great sense of hope.
People who plan to rebuild their lives after losing literally everything, even knowing it could all be taken away again.
Children who have nothing but their torn clothes who still smile and dance and sing.
Neighbors, one blind and the other an amputee, sharing each others' eyes and hands to work a small farm that may not even be cleared of mines.
Jolie says in her book, "These problems do not disappear just because we do not hear about them. There is so much more happening around the world than what is communicated to us about the top stories we do hear. We all need to look deeper and discover for ourselves…. What is the problem? Where is it? How can we help to solve it?"
Over the past few months, people have taken to the streets to protest the imbalance of wealth in our country. This book will make you think about the imbalance of wealth in our world.
related links: