thanksgiving thumbkin pumpkins
It never fails. Whenever I make pumpkin pie, I always have a little bit of squash and pie crust dough left over. I save the squash for muffins, but there's not much I can do with the dough.
This year my daughter suggested we make thumbkin pumpkins with the leftover ingredients. She made them in school earlier this week and thinks they're the perfect excuse for eating lots of whipped cream.
We rolled up the leftover dough and divided it into several 1-inch-sized balls. Then she took her thumb and made a little well in the middle.
Since I start with plain pumpkin and not pumpkin pie filling, I had to add some sugar and spice to my squash:
1/2 cup pureed pumpkin
2 1/2 T brown sugar
1/4 t ground cinnamon
1/4 t ground ginger
small pinch of ground cloves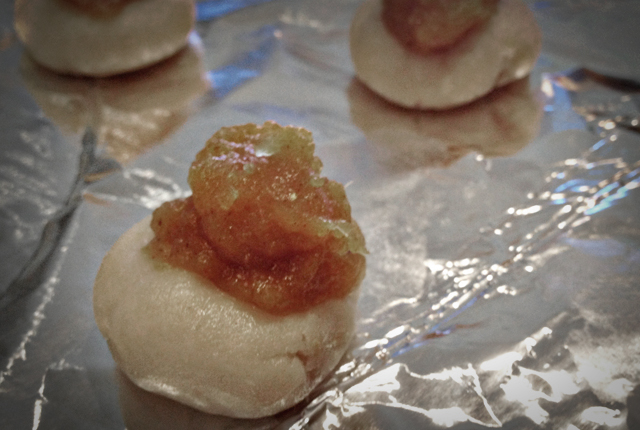 We spooned a small amount of squash into the thumb imprints. Then we baked these on a foil-lined cookie sheet along with the pie.
They turned out great. Personally, I'd add more pumpkin, but I've got a whole pie. These are really for my daughter, so as long as she's happy, I'm happy. She ate them with a very generous dollop of whipped cream.