Comments closed. Congratulations Laura!
It's time for another giveaway! This time I've got something for the knitting folks. Although, you don't really have to be a knitter to enjoy Stephanie Pearl-McPhee's brilliant writing style. She's terribly funny, and you can get a taste of her humor at her blog: Yarn Harlot.
This giveaway is for Stephanie Pearl-McPhee Casts Off: The Yarn Harlot's Guide to the Land of Knitting.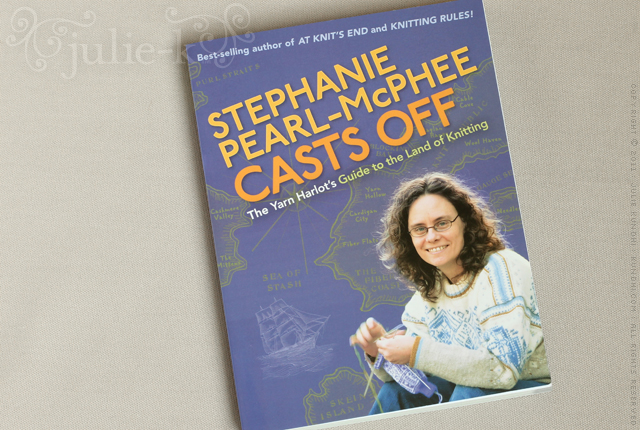 from amazon:
Using a travel guide format as her launching pad, Pearl-McPhee acts as tour guide extraordinaire, displaying her trademark razor-sharp wit as she describes and critiques every aspect of this land she knows so well — its people, native language, familiar phrases, strange beliefs, etiquette, and cultural customs. Readers will love her timeline of notable dates in knitting history and rarely celebrated knitting heroes, from the samurai warriors of Japan to the "Terrible Knitters of Dent." And, while the land of knitting is a peaceful place, it does have its political arguments, such as the acrylic versus natural fibers and circular versus straight needles debates.
You can take a look inside the book at amazon.
How to enter: Leave a comment on this post. You don't need to say anything but hello, but we could start a conversation on handmade holiday gifts. (Yes, it's that time of year!) Have you started making gifts? Are you going to buy handmade? More of a gift card giver? I'm going to come clean right now and say I haven't even started thinking about it. Yikes!
Bonus entry: Share this giveaway on facebook, twitter, [insert your favorite social networking site here] and leave another comment.
I'll close comments on Wednesday, November 23rd. Shipping is free within the U.S. International folks are welcome to enter, but I'll need a few bucks via paypal to cover sending it overseas.