My daughter's friend Mason loves Batman. We got him some superhero books for his birthday, but they didn't seem fun enough. I thought maybe a special cape would make his gift more exciting.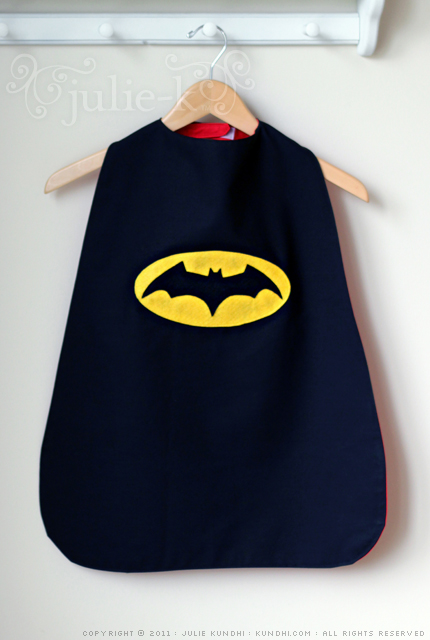 I found some black and red canvas-like fabric in my stash that I thought would be great for this project — wrinkle resistant and durable. Apparently, it's Ultra Heat'n Bond proof, too. I wound up stitching on the appliques and gunked up my needle in the process. Bah!
The cape is reversible and I toyed with the idea of adding a Husker N or Mason M on the other side. His mom suggested Spiderman. Of course, it wasn't until after I finished that we both realized Spidey doesn't wear a cape. Oops! I spent a lot of Saturday mornings watching Super Friends. I should have known that!
Anyway, I've always wanted to make a cape and now I have. And of course, after all of that, he was more interested in the books. Kids. Gotta love them!
cape tutorial: I used Georgia Leigh's free cape tutorial and freehand sketched the pattern onto my fabric. She also has applique stencils available. I traced my own because I wanted the Batman logo to match the new Dark Knight logo that was on one of the books.