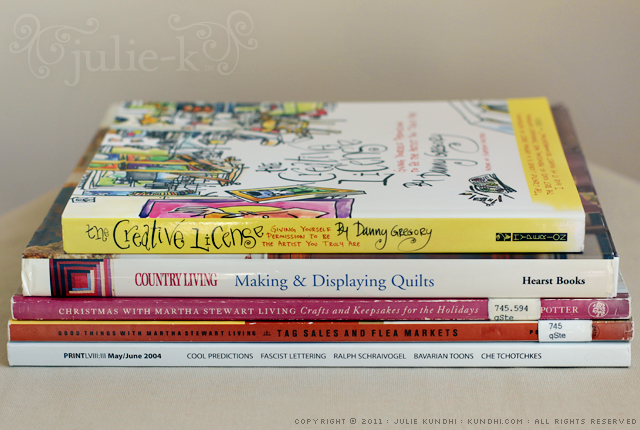 I love books — old, new, hardback, paperback, electronic — I just can't get enough of them. I am currently downsizing my collection, but couldn't resist going to our city library's book sale. I found non-fiction titles for myself, brand new books that will become gifts for others, and children's books for my daughter.
Of course I had to check out the craft books and I came home with some not-so-typical choices. No sewing, knitting or crochet! Here's what I got:
The Creative License: Giving Yourself Permission to Be The Artist You Truly Are This book looks like fun. Here's the sentence on the back cover that sold me: "Somewhere deep inside, we all have a longing to make things — be they drawings, music, hand-knit sweaters or loaves of bread."
Country Living Making & Displaying Quilts I don't ever see myself making a quilt and don't own any other quilt books, but I love Country Living publications. The beautiful pictures always inspire me.
Crafts and Keepsakes for the Holidays: Christmas with Martha Stewart Living I don't own any holiday craft books, either. I am still committed to handmade holiday gifts and there are some really cute ideas in here, plus lots of yummy recipes.
Good Things from Tag Sales and Flea Markets Does this book even need an explanation? Honestly, I think I have checked out this exact copy at least twice. It's filled with information on how to shop, what to buy, and how to restore thrifted items.
Print Magazine's 2004 European Design Annual: Print is one of my favorite graphic design magazines. I love all of the annuals, but there's something special about the European edition. It's a nice change of pace from the design we are surrounded by every day.
I'll be devouring these over the next few weeks and will let you know how they are. I'm curious what everyone else is reading these days.
Share your favorite crafty recommendations in the comments!