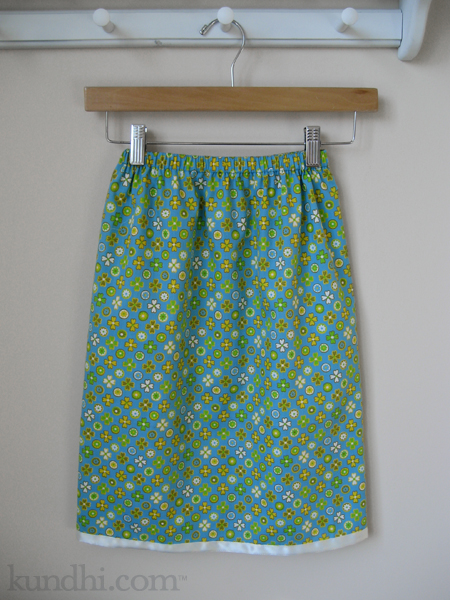 Tomorrow my daughter's preschool class is having a St. Patrick's Day party and everyone has to wear a green shirt. Over the past week, we've gone from her insisting on wearing her only green (too small) gumdrop shirt to her requesting an entirely new outfit. She rarely asks me to make her clothes, so of course I jumped at the opportunity.
She really wanted a green shirt and legging combo, but when I found this cute clover/flower fabric in my stash, she agreed that a coordinating skirt might be better. (Phew!) I'll try to get a better photo of the top tomorrow, as I didn't finish it until after the sun went down. I think both of these will get lots of wear over the summer, hopefully not always together.
The FaveCrafts Blog wants to know what you have finished on the 15th. Check out other finished projects and post one of your own!
project details: Green shirt from Target, thrifted fabric and ribbon from my stash. Lazy Days Skirt pattern from oliver + s.
tiny four-leaf clover pattern: Don't forget to crochet up a little luck for yourself and friends. They work up super quick! My pattern here.