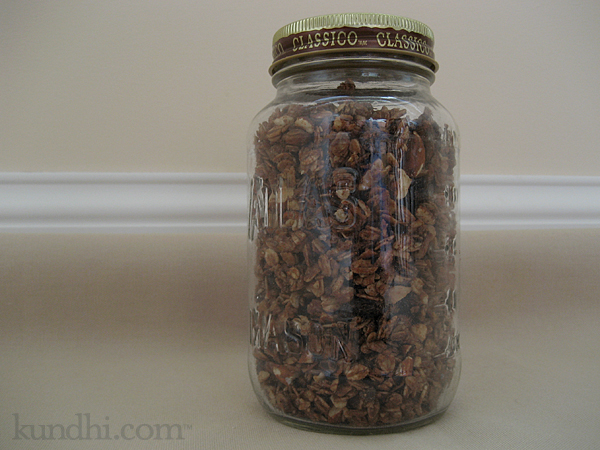 If you've been waiting for me to post this recipe, thank you for being patient! I took a granola break for awhile. I got frustrated because you really can't make a totally healthy version of this stuff. I've done the best I can, but it's still packed with calories. Luckily, it tastes good enough that I only need a little sprinkle to jazz up my plain yogurt.
Preheat oven to 325 degrees F.
Mix in one bowl:
2 cups old fashioned oats
1 teaspoon cinnamon
1 teaspoon kosher salt
Mix in a second bowl:
2 tablespoons oil (I use light olive for baking)
1/4 cup blue agave (or honey)
1/4 cup light brown sugar
1 teaspoon vanilla extract
Combine the wet and dry ingredients. Pour onto a baking sheet with edges, like a jelly roll pan.
Bake for 10 minutes. Remove pan and stir.
Add 1/2 cup chopped nuts. I've used almonds and pecans.
Bake for another 5 minutes. Remove pan and stir. Bake for a final 5 minutes. Take it out sooner if it starts to get too brown.
Keep stirring so the granola doesn't stick. (I skipped this the first time. You get a giant block of granola! If this happens, warm it up a little in the oven until you can stir it again.)
When cool, add 1/4 cup dried fruit. I've used raisins and cranberries. If you are feeling really decadent, sprinkle in a few mini chocolate chips, too.
recipe credits: This is an adaptation of the recipe my daughter brought home from Cooking Camp last year, which was an adaptation of the granola recipe in Baked: New Frontiers in Baking. I've never seen the original recipe.