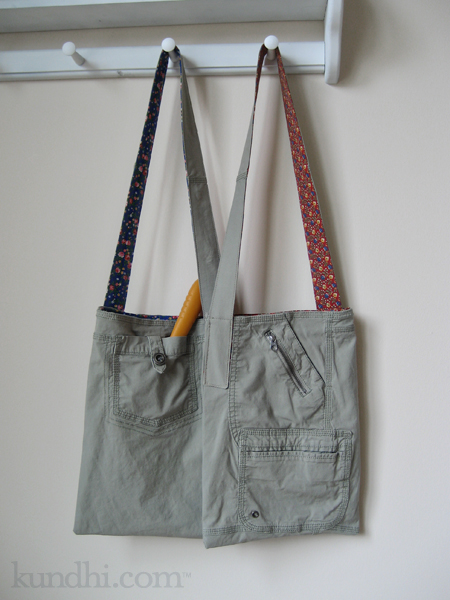 You knew I was going to turn those capri pants into tote bags, didn't you? Not just any bags, however, but bags with a purpose: keeping nature out of my pockets and my purse.
I'm sure many of you can relate to this: Mama, can you hold this rock? Here's a present for you, Mama. It's a leaf! I'm just going to put this stick in your purse for later. Did you put my feather in your pocket? Later, as you are digging around for latte money, the barista gives you a funny look as random bits of nature fall on to the counter.
I made two of these: one for my daughter and one for her friend. They're the same except for the lining. Now when we go on walks together, the girls can carry their own bits of nature. There are all kinds of pockets perfect for acorns, rocks, twigs and leaves. The buttoned back pocket is perfect for storing a shovel. You never know when you'll need to dig for treasure!
I love how these turned out and will be making more. How perfect would they be for a day of garage sailing or thrifting with different compartments for cash, phone, water and a snack! They would also make a cool craft project bag with pockets for all of your notions.
project details: Pants from my closet, lining fabric from my thrifted stash.