We are doing very simple Valentine's Day cards this year. I wanted to keep my daughter involved in the process, but between preschool and nature school, she's got over 30 classmates. Even though she loves crafts, I can't imagine her staying interested in such a big project.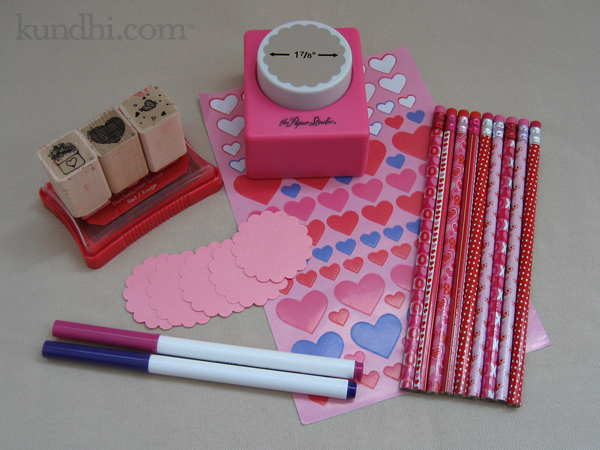 We picked out Valentine's pencils together and we used what we had for the cards. You'll notice that she didn't use any of the supplies I gathered, but chose her own stickers and pencil for the project — such crafty independence!
Using the big scallop paper punch, I cut out a bunch of flowers. I told her she could decorate them anyway she liked, but she had to make sure she put her name on them. Once finished, we taped them to the pencils.
We started this project early and she's been doing a few a day. We'll see if they get finished by next week or if I'll have to make up the last few.
What do you do for Valentine's Day cards? Buy or make? Include candy or not? Is your child involved in the process?
from the archives: handmade valentine's cards, valentine's day heart bunting, tiny crochet heart pattern